The dashboard is a
performance

management tool that is aligned with your organization's strategy.

Even though the Decimal Suite focuses primarily on financial data, it is also capable of tracking any number of indicators from other areas.



Our dashboards are capable of displaying the kind of sample indicators that enable managers to:


Track changes in results
Track changes in deviations from reference values (objectives, internal and external standards, statistical references); they usually do so in real time while focussing on the most significant deviations.
Different organizations have different indicators and strategies, and it is the same for dashboards: they vary greatly from one organization to the next, and can even vary between departments.


The choice of indicators is based on the triggers that will be used to implement any possible corrective measures, i.e., it is based on future decisions. Our dashboards translate the organization's strategy into user-friendly, measurable and relevant performance indicators.


We recommend you carefully choose the performance indicators for your dashboard, to ensure organizational objectives are in line with performance measures.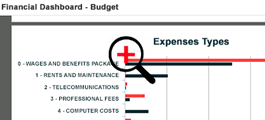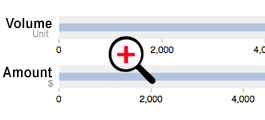 DECIMAL BI brochure